Operationalizing a Crisis Response Strategy to Fight Homelessness through an Outreach Hub and Center for Interagency Policy and Action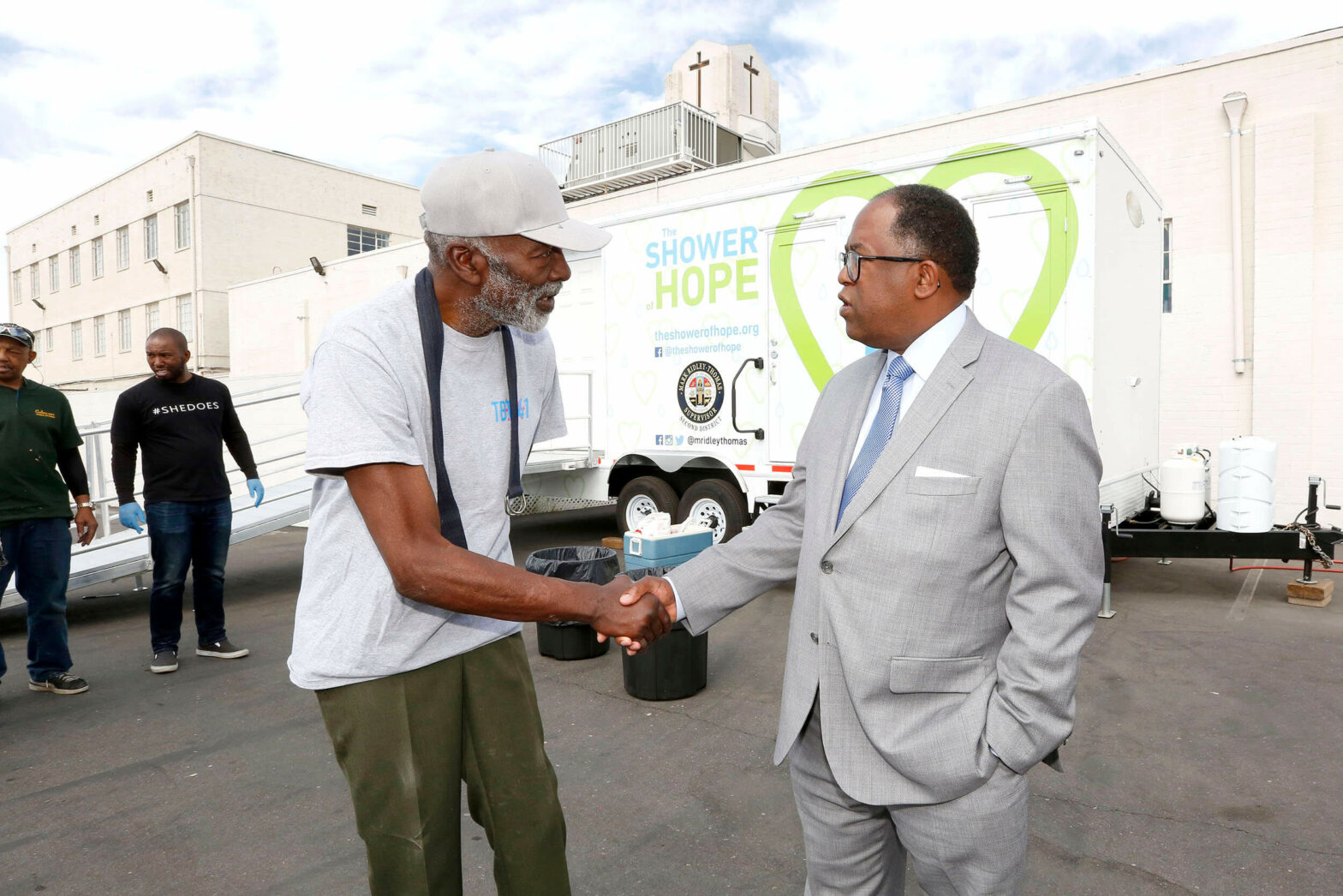 In order to scale up the City's response to the dual crises of homelessness and housing, the City Council unanimously approved two motions authored by Councilmember Ridley-Thomas, to establish a LAHSA Outreach and Coordination Hub and Center for Interagency Policy and Action.
The LAHSA Outreach and Coordination Hub would be located at 1819 S. Western Avenue in Los Angeles, creating a space for essential workers to centralize deployment activities for South Los Angeles, conduct meetings and trainings, and centralize equipment and supplies.
"There is no greater threat to our future and overall health of our City than homelessness. We owe it to our services providers, their staff and outreach workers to make sure that they have a safe place to work – and if we want their services to be optimized – that safe place must be in proximity to the individuals that they are serving," said Councilmember Ridley-Thomas.
The proposed Center for Interagency Policy and Action on Homelessness is recommended for 510 S. Vermont Avenue in Koreatown, co-located with the County of Los Angeles' Department of Mental Health and Workforce Development, Aging and Community Services. Positioning the Center at this location will allow for hands-on coordination at all levels of government to address issues related to homelessness including behavioral health and income security.
"Homelessness remains the most critical issue in our city and we will continue to dedicate unmatched resources towards solving this crisis. This Center will assist thousands of Angelenos and streamline how the City and County connect individuals with the help they need to thrive. We must continue to collaborate and innovate to support our unhoused neighbors as quickly and effectively as possible while keeping equity at the center of our efforts," said Councilmember Marqueece Harris – Dawson.
"Our city relies on the County for so many crucial services, and we must better coordinate effectively with these County agencies on behalf of all of our residents, especially those who are most vulnerable," said Councilmember Nithya Raman. "In its best version of itself, the City should welcome people seeking assistance in, and ensure that they get what they need quickly and easily. This Center for Interagency Policy and Action on Homelessness moves us closer to that vision.
"During this pandemic, we have relied heavily on our essential workers, in particular, our frontline homelessness outreach staff and multidisciplinary teams, who carry out the crucial role of ensuring the needs of our unhoused neighbors are met with urgency and compassion," said Councilman Curren Price. "This is an opportunity to bring some relief and support to the selfless individuals who constantly put the needs of others ahead of themselves by providing them with a space that will allow them to be more efficient and effective while keeping them safe."
"While we have worked with unprecedented speed to assist thousands of homeless Californians, we must work more efficiently and collaboratively to scale up solutions that work – and there is no substitute for a physical place that fosters problem solving and solution building to happen with all responsible parties at the table. At this Center, we will be able to operationalize how the City, County, and community can design policies and programs that can address this crisis at scale," said Councilmember Ridley-Thomas.
In addition, Councilmember Ridley-Thomas' motion takes initial steps to establish a Constituent Service Center (CSC) along the Crenshaw Corridor, to improve constituent-service delivery for Los Angeles residents and help facilitate timely revitalization efforts in surrounding areas.
The CSC model was first implemented in the 1990s in the Vermont/Manchester community and has distinguished itself over the past three decades as a model for breaking down silos and barriers to services and ensuring that constituents have timely and efficient access to City personnel and programs. The Crenshaw Corridor is uniquely suited for such a facility given the significant ongoing transit oriented development, the additional density under development, and the proclivity of aging City infrastructure within the surrounding community.
In addition to accommodating a Tenth District field office, the CSC is envisioned to include space for the Departments of Public Works, Transportation, Planning, Sanitation, and Housing and Community Investment, in addition to other appropriate City departments and agencies.